Darkness Incarnate
November 10, 2010
I saw death today
And contrary to one's belief, it is not a lone shrouded reaper,
But an entire entity; a swarm of pure, cold darkness.
It envelops you in its frigid blackness in seconds, eating your very soul and body.
And to my revelation, I was one of its victims

I am no longer of this earth, but a part of this immortal ungodly creature.
I do not act as one, but as a part of it, and its cold embrace makes me want all life.
The more we kill, the more we hunger.
You keep us at bay well, but the balance will always shift.
If you humans do not die easily, all other forms of life will die around you
And as they become a part of us, you will be even more vulnerable.

I cannot wait to eat your mortality, it has a delicious taste,
Your souls age like fine wine; we are wiling to be patient.
Soon, we shall taste all of you in one rush of mass extinction, we can feel it already,
The air around you, getting colder, staler, it will not be long now
It will be a dark and glorious day when we flock to your husks and devour you for ages

I too, used to be human, until I was taken by death; now, I am death.
I cannot remember my past, nor do I want to, humanity was such a vain existence
Death shall be here forever, feasting on all life in the universe.
We are all powerful, we are all knowing, we are all dead.

We are an unstoppable force of darkness, not only surviving, but thriving on all that lives
You cannot stop us, so end your life here, right now, it will please us greatly
Delaying the inevitable is a fool's tactic; stop this pointless farce and give in.
I ask you once, we shall all be death, but now, in this plain of existence, we are divided.
Why fight it, death has already won, we hunger more, and we cannot be satisfied.





Death…to you all.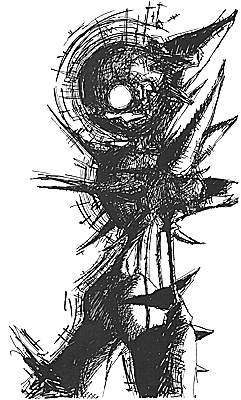 © Tag H., Galesburg, IL