Horror of a Mirror
November 11, 2010
Your face is full
Of frightening determination
I'm not used to it
After all of those weeks
When you'd sit and glare.

I wonder what you're going to do
You're beautiful
And now you're a raging beast
Still gorgeous
But filling me with terror.

Horror runs through me
Laces my veins
I've seen you
At many stages
But I've never seen you selfish.

Delicately, you pick it up
With a steady hand
I've seen you at all stages.. But never selfish... I can't believe you're holding a gun--
Pondering yourself in the mirror
You break into a tense smile, and set it down again.

Now you've left me confused
What's going on inside of that strange head of yours
The one that has
Glossy brunette curls and wide blue eyes
That can sit and do her Algebra obediently.

I know you're smart
Genius perhaps
And you're not selfish
No, not at all-- your parents might not have seen
The helpless bird sopping wet and starving... but I did.

Unexpectedly, your mask shatters
Into shards of glass
Dripping from your eyes
Stunning clear blue ones
Like the sky on a sunny California day.

You may not know
For I haven't known
Until now
But I'm in love with you
Except you can't see me.

Your tears are beautiful
But why are they there?
I think you're just tense
I don't know why
You haven't been crying over much lately...

I still am wondering
What you're going to do
But I can't focus
Anymore
More on your long pianist hands.

That must be why you're such an
Algebra whiz
It must be the classical that you play
On that grand piano by the window
Where the breeze ruffles your hair back.

You're gazing at the gun again
I want to snatch it from you
That; and your strange idea
It can't be good
I don't want you to leave.

The gun has been lifted
Oh dear, how anxious I am
The glass is fogging up
I'm desperately scared
Want to call 911.

You look me in the eye--
Wait.
In the eye?
Can you see me?
My mouth has dropped open.

Perfect lips pull back
Into a dainty smile
Leveling the gun
But it's at me
Wait; what?

Can you see me?
Do you know who I am?
Are you trying to save me?
Don't get my hopes up-- please
Do you know that it's possible to kill me like this?

Shooting
Shot
Shatters
Stars
Silent scream

–––

You offer your pianist hand
I gaze at it longingly
Mine
And yours
Intertwined.

Lost
I don't know how
You can see me
Because no one can see
The ugly prince in the mirror.

You've saved me
I didn't die
You are will always be treasure of my heart
I don't think you're selfish after all
You're just my personal personification of perfect.

You've helped me up
I'm free from my life-long cage
I've stopped trying to understand
I'm concerned about my proximity to you
And
How
I
Might
Kiss--
You're leaning forward
I can't help it
Savior of mine
I'm saved from the glass
You're not selfish after all
But I am.

And you've saved me from the mirror.

Thank you.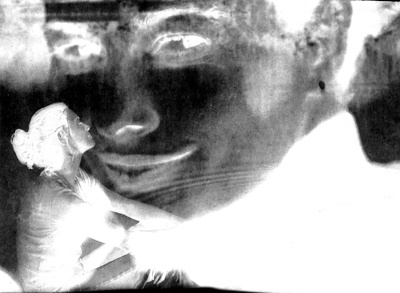 © Jodi H., Aberdeen, SD