An Opinion
September 25, 2010
I loathe being augmented to anger.
Its charisma is not taken lightly.
Intermittently, the inept can't filter it through their minds.
Then there is no other option but to lash out at them,
Asking charmingly an excessive number of times is abase.
Succumb to anger.

Idiots
The conclusion I've come up with,
They're in retarded bliss.

The cruel smile that lingers upon their faces,
Makes me want to rip it off.
Why stop there?
I'll tear them apart!
Limb by painful limb!
Hopefully they'll rot in hell when I'm done with them.
When my time comes,
I'll torment them just as in life,
Haunting.
The grudge will not wear thin,
We'll nurture it in our wombs.
Feed the fire.

After all
Our excuse lingers beyond the noose,
We're only human.
Disgusting humans,
Living to die.
Imbeciles.

I stare at the angered scratches on my page.
The litters of words occupy the space.
Infuriated,
I tear it up.
Tiny little pieces
Letting the wind spread my newfound rage.
The rage that ignites wars.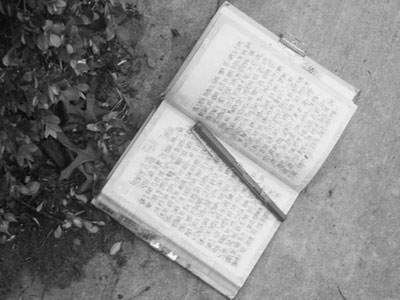 © Quinn B., Lubbock, TX