You Don't Have to Try So Hard
September 4, 2010
My rusty old ten-speed whistles the song of summer as I fly down the road.
Heaven's tears fall onto my face, and dampen my hair.
I laugh, breathing in the sweet smell of home.
The ferns, thick and lush, make me long to run my fingers through their silky leaves
and discover the secrets of the forest.
My brown rubber boots, caked with mud, glisten with authenticity.
My hair, the color of beach grass in the fall, whirls around my face, enveloping me in a tangerine cloud.
Everyone waves at me as I ride along, and I wave back.
I see two girls my age, faces plastered with lies. Their platinum hair slides liquidly over their shoulders.
Must be tourists.
They look at me disdainfully, at my muddy boots, windblown hair, and rusty bike.
I smile and I wave at them enthusiastically, feeling sorry for them. They need a good sized spoonful of reality-
Because honestly, you don't have to try so hard.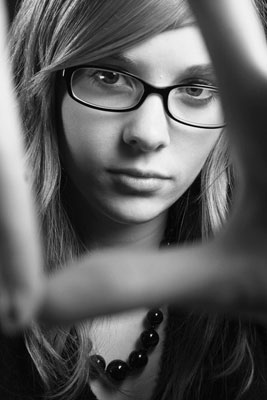 © Marina S., Vineyard Haven, MA