first swig
August 28, 2010
i am a crumb in a thick, suffocating mass of people –
the stench of perspiration, adrenaline, and alcohol from
the instant i stepped into the room remains rubbed into my memory
forever. every square centimetre of linoleum tile blanketed by
swaying bodies, i stand in a pool of unfamiliar actions and alien
activities. i feel strong arms push me onto the floor, and the sudden
fear of being mauled by stilettos thunders into my chest. i
steady myself, and find that my crisp white top is now damp and
yellowed, some acid-like liquid seeping into the cloth and onto
my skin. i am suddenly aware of my dislocation in a place like this, and
the hopeless situation I've brought myself into.
like a deer spotting a predator hunched behind mere bushes,
my heart pounds in my ears as she steps out from behind
an accumulation of wasted teens passing around a joint.

her hips gently swaying to the music which is now nothing
but a distant buzz in the background, like that wallpaper
in the corner next to the television that no one notices is a
lighter shade than the rest. i watch as they swing in sync with the
music: left, right, left, right. her brown-died-strawberry-blonde locks
flow with ease behind her, like that summer breeze that you can never
get enough of. a familiar pang of envy ripples in my chest like
the leftover glow of a flash of lightning, longing for her beauty, her utter
good looks. my frightened gaze travels to her face. features enough to haunts my
thoughts; her eyes beautiful in a way that sends a shock of chills down my
spine – two icy blue icebergs watching me with such contempt. her lips are
curled into a sneer, casting a slight shadow of a small dimple in her right
cheek. suddenly, her body halts. as the gears in my mind spin tirelessly,
i begin to register that she has stopped inches from my face, still eyeing me.
that hideous sneer still present, i can nearly imagine two tiny horns thrusting
out from the top of her head, an arrow-shaped tail wavering just behind her, and
a pitchfork clutched in her fist. without speaking, she shoves a glass bottle
into my chest, the liquid in it swishing against the insides. i try to send the
message with my eyes, staring into her pools of ice with my mere mud-coloured
puddles, trying to will her to accept that i've never before sipped a drink.
with all the might i can muster, i will her to understand: don't make me do it, i've
never done this before.

taking in my scared-to-helplessness expression, her sneer grows, dimples now
clearly visible. she pushes the bottle harder into me, her eyes boring icy pits into
my skull. i focus on the sound of the liquid: swish, swish. she pushes the bottle with
so much force, that i stumble, landing in unfamiliar arms. without looking who had
the dignity to catch me, i continue to stare at her.

she won't make me do it. she's my friend. right? friend.

i remain rigid, unmoving, unable to remove my gaze from her face.
her sneer vanishes with a flourish of muscle movement, her face now
scarred by malicious anger. her expression forms three creases between
her eyebrows, her lips tighten into a straight, lip-glossed line. with one quick
flourish of the wrists, her fingers have by the back of my neck, forcefully and
painfully tipping my head backwards. her other hand presses the mouth of the
bottle against my lips so hard i am forced to open my mouth, allowing the liquid
to swim into my dreading mouth. it seers my throat, burns the roof of my mouth,
blazes my tongue. my eyes water, the scene spinning before me, every a blur
but her satisfied grin.

my first swig -
never again .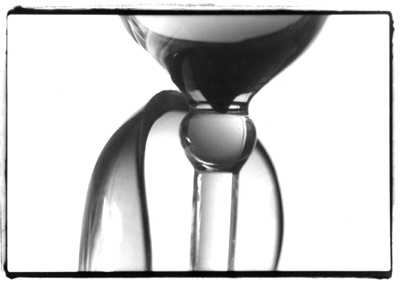 © Maria P., Bethseda, MD