Thunder
August 22, 2010
My eyes are sore. They hurt from the tears... My only comfort is the booming thunder... All else is silent. Gone.
I feel the small bags under my eyes get deeper and the tingling in my nose as it turns a light shade of pink... I hate crying. These stupid meaningless tears.
The tears keep coming just as the storm seems to get worse... It's comforting me, I think...
I wish the storm would come to me...
The wondows burst open... A tornado. I giggle inspite of the tears still going down my cheeks and wait in anticipation.
House after house it picks up to cradle then throws down harshly... IT won't do that to me.. It loves me...Loves...It doesn't mean to hurt.. Just a way of this pathetic thing we call life.
--Come to me-- I silently call, slighty waving my arm.. Come and take me from this nothing I am.
I sit on my couch and take off my blanket... It picks me up and I shiver from the cold... To cold.
Be warm, I ask in my mind, nothing happens....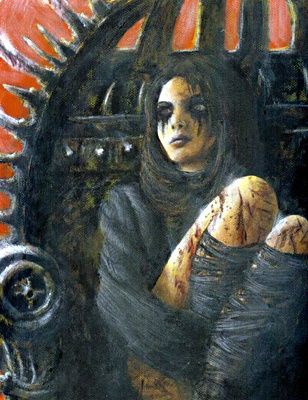 © Veronica N., Kenora, ON, Canada