We Were Cowboys and Indians …
MAG
August 12, 2010
We were cowboys and Indians,
Green Bay Packers and Band Mates,
Sticky-faced school kids, knee-scraped willow tree climbers.
Truth or dare achievers, monkey-bar splintered,
Firefly catchers,
American Idol Dreamers.

The woods behind the grade school was our battlefield,
The grassy patch behind the ice cream store our ghetto,
The basement our wrestling arena.

The tree in the backyard gave us crab apples,
We named them "sapinis"
They were our baseballs and our weapons.
I secretly cried the day it was cut down.

With baggy clothes and chopped hair, I was a tomboy at heart,
My best friends were my brothers;
My only fear was spiders,
I made fun of girls in dresses, my math answers were guesses.
I was an ice cream-bound bike rider.

I thought pink was for girlie girls,
I didn't wear red because it reminded me of blood, and nose bleeds,
I knew germs were going to take over the world,
I was a thought-troubled child, worried over things like
Death
And Insanity.

I was baffled,
When I first laid eyes on my brother's crotch,
I protested, "Where's mine!?"
My mother told me it had been bitten off by a raccoon.

I was stubborn,
At the beach I walked onto the sand shirtless and proud,
Ignoring the staring crowed,
Because if my brothers didn't have to wear a swim top, I shouldn't have to either,
I wished so badly to be like them.

I used to pray for a little sister.
At 11 my mother said she was pregnant.
That night I sat cross-legged on my bed,
Thanking God, promising to be the best big sister in the whole wide world.
In the summer we jumped through icy sprinklers,
With grass sticking to our feet,
In the winter we'd sled until our cheeks were numb,
And Mom called us home for dinner.
She was a smart woman; I went to her for answers.
She rubbed off on my father, who could fix anything that was broken,
Even hearts.

When fall grew near,
We were Devils Lake explorers,
Cliff-climbing adventurers,
We used our hands and feet to climb the rocks to the summit,
We reached it, and finally felt big; we reigned over our kingdom of colorful tree tops.
We were vampires and skeletons; Scooby-Doos and train engines,
Pumpkin carvers, trick-or-treaters, practical jokers
And witch believers.

We were late-night toad catchers, shooting star wishers,
The Frank Lloyd Wrights of fort building,
Dirty barefoot swingers.
We were bright-eyed when we heard the ice cream truck,
Teary-eyed when our furry friends went to heaven,
Wide-eyed when we woke up on Christmas morning.

I used to look at myself in the mirror every day,
Hoping I had grown a little bigger, looked a little older,
And now as I peer at my reflection,
A face far from perfection
Looks back,
A face,
That was once a knock-knock joke laughter,
A crooked-tooth tomboy,
A wolf-loving, Reese's cup stasher,
I look and I see the ones,
Who grew up with me, were along for the ride,
From a chubby-faced kid,
To a pimple-plagued teenager,
We had been cowboys and Indians,
Green Bay Packers, and band mates,
We were brothers and sister.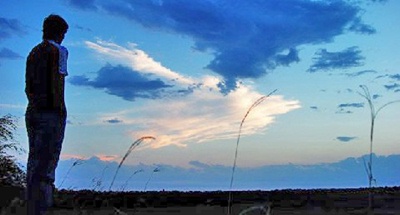 © Stefanie K., Katy, TX