There She Stands
August 4, 2010
Curled up with a book, she lie on the bed.
A storm is coming.

Like many times before, she begins to read.
A temporary freedom.

In the back of her mind, she hears the rain.
A light bulb flickers.

Lightning brightens the room, thunder cracks.
The power goes out.

She reaches for the flashlight, she can't see.
She turns it on, searchers for a lighter.
She flicks it, making sure it works.
She searches for candles.


One
Three
Four
Six...

Seven
Ten
Sixteen...


She lights them all, and the whole house is bright.
In this light, she can really see.
The walls are lifeless, empty, and there she stands.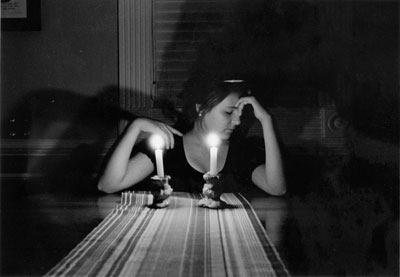 © Eleanor K., Bethesda, MD