Music From the Heart
June 13, 2010
I wish the lights weren't so bright.
If only these heels weren't so tall.
I am supposed to walk slowly, but it doesn't help that my legs are trembling.
I reiterate a single line in my mind: "Don't trip."

I walk across the solid grey ocean
And finally make it to my lifeboat:
A small black chair resting on a shiny, majestic stage.
I wish I would stop trembling.

I raise my wooden companion from the ground
And now begin repeating another line in my mind: "Don't drop your cello."
I take a deep breath, because this shouldn't be so hard.
Playing music from my heart is all I know.

When my bow comes to a rest, and the audience claps,
I catch a glimpse of someone standing offstage.
Her eyes are glassy and her mouth is crinkled into a wobbly smile.
I begin to repeat the line "don't cry" to myself, but it fails this time.

I can stand with poise against bright lights and towering high-heeled shoes,
But one look at my mother's proud face transforms me into a human garden hose.
I don't mind this in the slightest though,
Because I'm thrilled she could be there.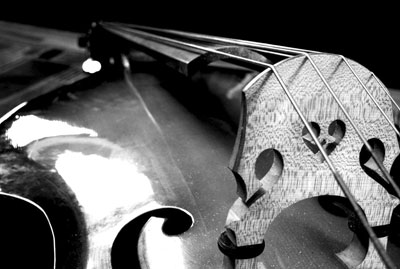 © Kristine B., E. Setauket, NY