"The Path More Often Taken"
June 4, 2010
Long ago, but not as long as I pretend
I walked a road that had no bend
until I found a fork somehow
and chose the path I travel now.
There was a path though, I recall
that led away from it all;
A foreign path, never trodden,
or trodden once but long forgotten.
A path with skies as black as night,
that I stared down with all my might,
revealing only dusty dreams
sweet ones, or nightmares filled with screams
a deadly winter, or bountiful spring
I didn't know which it would bring,
and even if it was walked before,
it certainly wasn't used anymore.
Shrugging away from an unsure road,
another pathway quickly showed
it's easy self to my dull eyes
catching me quite by surprise.
Down this path was printed feet
to show the travelers it greets
that those that have walked here before
are safe and well forevermore.
Because the prints were fresh and new,
I let them show me what to do
Besides, as far as I could see,
this path looked pretty safe to me!
With one last glance at the other turn
where I could have had so much to learn,
I followed prints of travelers passed
and went along my way at last.
The path I chose, it later seemed,
stored much more struggle than I'd dreamed
I like this road don't get me wrong-
it seems so sturdy, steady, strong,
but there's been bumps that give me dread
of unseen things that lie ahead.
I've made it safely through somehow
and travel on quite happily now.
But as I stop to take a break
I think, 'Maybe it's a mistake'
and ponder where I would have gone
had I chose the path less walked upon.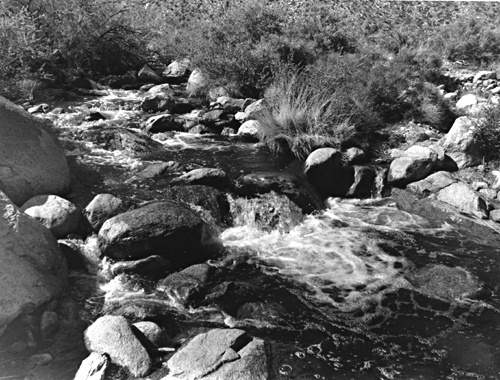 © Becky S., Stony Brook, NY