Never Letting Ourselves
May 29, 2010
What do you do when no one needs you, when the whole world turns against you, when even the most likely people don't help you.
What do you do when the snakes venom sneaks into you, when you can't release the tension, how do you cope with the life never coming for you.
What do you do when everyone hates you, when your only companion is a stuffed animal, and no one will ever listen to you.
What do you do when you scream and no one comes, when the only person who can hear you is yourself, when you realize your screaming inside.
What do you do when there's no one around and your all alone, when the only thing you have to hug is a pillow, and your cheeks are tear stained
In this world if you don't know where you are then your lost, in this world if your afraid your afraid of it all, in this world if you can't scream out loud then your too scared for help, in this world if you give up then your done. You hearing that wolf crying out to the moon, the moon is its' only companion and sometimes even the moon can't save the wolfs soul. Have you ever found yourself screaming for help but realizing it's only in your head? This whole world has seen how that feels, this whole world as developed the pain of never letting our screams see daylight, never letting ourselves nbe free of all the pain, never letting ourselves.. Go.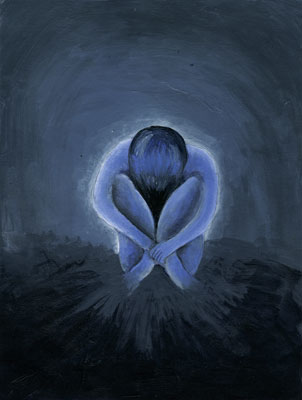 © Becky F., Sacramento, CA