Silent Soldiers
April 29, 2010
They wake up in the morning,
Wiping at their weary eyes.
To a world in which,
No love lies.
They grab their tools,
And head off to work.
A five year old,
Trudging through the heat.
A five year old,
With scraped up feet.
This silent soldier moving along,
Hoping to be alive,
When his day is done.
His crying sister,
Weeps and screams,
His tragic life,
Tearing at the seams.
As tired as he may be,
This silent soldier,
Works through the heat.
Hoping to get some sleep that night,
Hoping to have something to eat that night.
Hungry, depressed, sad and lonely.
Crying and deprived of his only family.
This silent soldier works through the heat,
And at night,
He cries himself to sleep.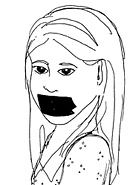 © Liza M., Vineland, NJ