A Terrible Thing to Waste
April 12, 2010
The human mind sits behind a window,
Closed off to a world that is blind to him.
He keeps the window clean
But at some point humanity shoved the shutters shut
Without realizing it.

He weeps in the dark,
The tears made of salt and seclusion
Etching tracks in the dirty cheeks
Ignored and rubbed raw.

He begs you to live a life
Joyously unrestrained,
To watch the passing of one minute to another
On the right hand corner of your computer screen.
He reminds you of the slowly-changing color
Of the autumn leaf and spring blossom.
He puts his hand out,
Inviting you to hear the still music of the world.
Breathe, close your eyes, think of nothing, and the world is deafening.

But our ears, our hearts, our minds
Are clogged with the illusion of insufficiency
We give in to it.
Overcome by greed, blind to poverty.
Overcome by ugliness, despite individuality.
Overcome by weakness, ignoring the power of original thought.

Sometimes someone remembers
To take life as a beautiful struggle
To stop blinking at every moment of shift
And listen.

But this thought is bound in red ribbon
And thrown out the window that blocks the mind
And picked up by a wind
That takes direction rather than creating it
Which flies it to a place where nobody can find it.

Because human nature lives on instinct,
Feeds on it and breathes it.
Instinct forgets thought and thought sets fire to the mind.
Which is a terrible thing to waste.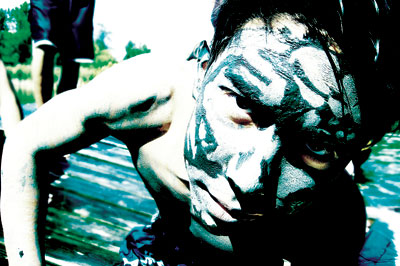 © Seita O., Palatine, IL