I Miss Your Laughter
March 29, 2010
Smiles often unseen
but always felt from within.
Laughter filling the cold empty air.
Biting back the tears,
memories appear like sound waves,
jumping from one radio to the next
whenever needed or wanted.
Or whenever going on ignored.

Reach out for me and I'll lift you up.
Cry out and with tears welling,
I'll dry your innocent sparkling eyes.
Speak of how much you miss me and I'll say
I never stop thinking of you.
Distance will never silence the need inside of me,
I so desperately want to grasp your tiny hand.

I long to rewind to the day you first entered this world.
That day I finally understood.
I would take my life to protect you.
I would even sit there and willingly
take your amateur karate moves,
an example of a young boy's playfulness,
If only I could hear your light colorful laughter
being released into the air.
And run my fingers through a mess of tangles,
because you refuse to brush your hair.
Where's a smile that never fails to rip my heart open
and knock the wind right out of me.

Calls do nothing to stop the pain.
It is impossible to feel
the warmth of baby soft skin
through synthesized vocals.

I try to breathe life into memories.
A park filled to the brim with grass,
butterflies flying every which way,
feet carved from the gods moving
amongst the particles of sand by the swings.
Passing winds sway may hair
as I spin you round.
"Sissy, don't let me go."

Suddenly I'm in a living room
chasing you around the house.
Squeals fly from your tiny little body.
I try to sneak up slowly
like someone coaxing a puppy.
"Come on…bath time.."
Slowly you back away with a sly smile.
"No…No..No.."

Now I'm chasing you
past isles of cans filled up
with pickles, peaches, boxes of cereals,
cake mix, all of the food groups.
My eyes blur out the background
and I focus on your legs
moving like the wind.
I always knew you had the ability to excel in any sport.
Back then I was drenched with irritable moods.
Now, whenever I step foot in a grocery store,
I'd give anything to see you whizzing past me,
wanting nothing more than to play tag forever.
I even miss the grunts of your tantrums.
Such an attitude from a sweet boy.

Back to the present,
I think back to moments before,
back to your voice
that always knows how to clench my heartstrings.
"I love you sissy."
I smile to myself.
I love you more than you'll ever know.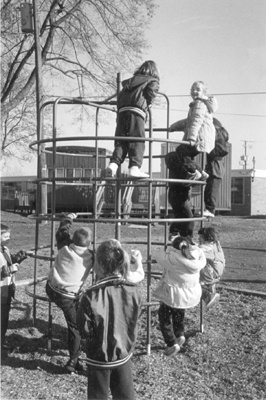 © Danielle H., Jonestown, PA