Tuesday Morning
March 12, 2010
Tuesday morning and I'm breathing,
with my lungs wide open and my eyes on overdrive.
I'm thinking,
but no, they're only figments of my imagination,
'cause the thoughts never become concrete.
My fingertips are dripping with paint
as I splash color on the dullest of canvases and suddenly nothing seems right.
Breaking in two while I'm standing upright is not my first choice;
but then again, when do we really ever choose?
The clink of the mugs that you're gathering in the kitchen
fades as I gaze in the mirror and wonder how I got this way.
Nothing seems real, but my head is in the clouds and reality
is merely another imaginary world called home.
Home isn't a word anymore, though, it's just one of those flighty thoughts like birds that never make sense but are intertwined with this thing called a heart.
The mirror is shattering;
or is it my eyes that are failing?
Whatever, it's wrong and I'm wondering whywhywhywhy as you float
in and see me with my metaphorical gun in my metaphorical mouth.
For there is no gun, no mouth, no mirror, no you, no singing birds outside my window, no me.
Because this is all a figment, a ghost of that other
imaginary world that lives in my head but not in my heart.
Tuesday morning, and everything seems wrong again.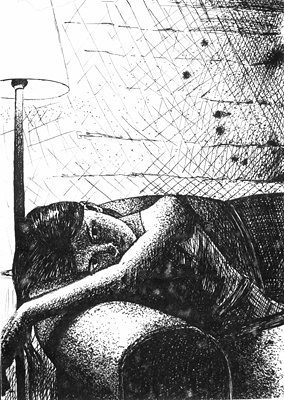 © Elisabeth R., Elmont, NY