Whispering Kisses
January 22, 2010
Your whispering kisses
Taint my skin
Like war paint in spit.
Battle for battle
Neither of us can
Ever gain the upper hand.

But I can't stop
This incredible tug in my chest
From pulling me back
Into your rough arms.
Everything in me
Completely gives up will.

Your fingers dig in
To my heated skin.
But the pain escapes me
Lost in your enveloping hold.
Breaths escape our lips
Like cries for salvation from ourselves.

I put up an impassive face,
But you and I know
That it's all a farce.
You and I have each other
Like putty in our
Blood-covered hands.

Connected by our
Savage and menacing addictions,
We are alike
For all the reasons we shouldn't be.
But it mixes us together
In a blend of undeniable longing.

If I were to be honest,
Which is something I rarely am,
I would admit to you that
Through all my callousness
You are the single one
That softens it up.

And I love you for it.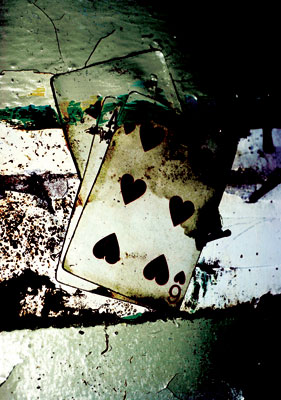 © Tracy A., Scarsdale, NY