On the Bus
December 19, 2009
I sat across from you, the other day.
I don't think you remember.
It was sunny out, though there was darkness
In a tiny corner of the sky.
You probably didn't notice.

I saw the way you hid your face
So no one would see you.
Kind of clever, I thought.
But I saw you.
Yes, love, I saw you.

I wanted to walk up to you
And smile a dazzling toothpaste commercial smile.
I wanted to watch your eyes turn and connect
With mine, see the story inside them.
But I was silent.

If I spoke,
You'd politely respond and smile, I knew it.
You'd turn back into your corner,
Locking me out, keeping me away.
Who knew what danger I possessed?

So I watched.
Your hair was wet.
I guess you'd just come out of the shower.
I wished I could run my fingers through the curls
And smell the scent of your shampoo.

When you got off, I watched you walk.
I saw you get up, smooth your skirt.
You took your first step with your left foot.
They say that means you're secretive.
I knew it. I am too.

I watched you. Watched you make your way down the street.
I took my finger against the window
And traced you like a raindrop,
Turning my head and squinting
Until you'd disappeared.

I'll see you tomorrow, beautiful woman from the bus.
I'll watch you,
Waiting, just waiting for when you'll turn and watch me
Watch me hide my head in the corner of the window
And trace my path as I walk away.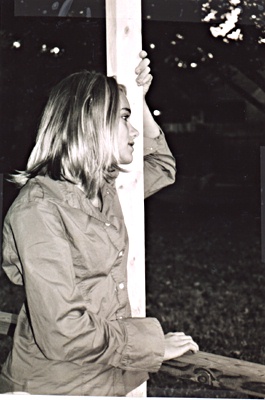 © Tiffany A., Southaven, MS