The Jewel
MAG
December 17, 2009
She would have to be a choker necklace.
Bold and daring,
An intricate pattern of crystals and lace.
You would be lost staring into the angled facets

Of her personality. Oh, clichéd duality!
She divides herself unevenly,
She bakes cookies with a smile, but later she
Bites back with a vengeance.

She could be a light pink crystal, within delicate gold chains,
But instead she sets herself
In black painted silver chains of memories,
Creating her own unhappiness,
Self sabotage is in style.

People are drawn to this disintegrating jewel,
Attempt to save her, even I tried, but she resisted my glue.
As a choker, she is fastened tightly around my neck.
Weighing me down, a new victim, slowly.

My new shoes are coated in dust from
Dragging on the ground.
She was clinging for stability.
I could not make up for her mother,

And so she takes it out on the world. She throws a fit,
Pinpoints my insecurities like darts on a map.
I struggle to declare myself an uncharted destination,
And take my name out of her sight.

She paints her eyes
And applies a smile,
Heel, toe, she struts forward
Off to find someone new.

She wraps herself around new people quickly,
And shows no recognition of who I am.
I finally breathe and try to sort out my feelings
About life alone, now, and life before my neck was bare.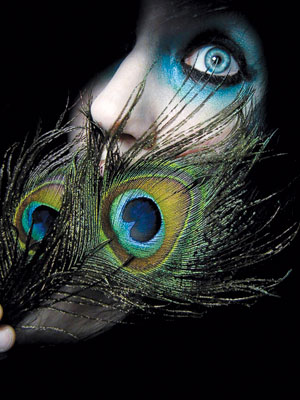 © Davina G., Abilene, TX