The Lights of the City
November 7, 2009
Breath taking. The lights.
Watching millions pass. Try to remember the moment.
In the distance. Sky scrapers.
Glistening city. Beauty of the pavement.
The windows. The sounds. All captured in this image.
The people. They walk the grounds. Of a city I'd call timid.
It's nervous. It's busy.
It's inevitably dizzy.
It seems to spin circles. The
million ton city.
It seems to stand tall. The sky scraper central.
Nocturnal. Awakened in the sun's greatest drop.
There's no grass. There's no green.
Surreal may it seem.
But this pavement claimed city,
makes me rip at my seams.
Opens me up to a different side.
All of my thoughts and emotions. Cannot hide.
Dancing in circles. The lights seem to pass.
This city and I's relationsip will last.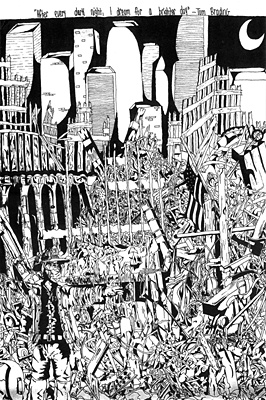 © Tom B., North Vernon, IN