Perception
November 4, 2009
as i gaze into the looking glass,
i am not able to see past
the insecurity I feel inside.
a lonely girl stares back at me,
and in her heart I hear my plea:
"free me from these demons in my mind."
i say, "There's nothing I can do,
else I'd find a way for you
to escape from the black forces that bind."
she says, "There is a way for you;
just do as I tell you to,
and you can leave the darkness all behind.
close your eyes and breathe deeply.
tell me now, what do you see
in the mirror deep inside your mind?"
"i see nothing but a girl,
freckles, dimples, lacking curls,
a girl with deep blue, hollow, soulless eyes."
then the voice, she said to me:
"dearest one, why can't you see?
deep within is where the problem lies.
you see only the bad things;
all the rest see true beauty.
seek beyond the mirror, and you'll find."

i sit up swiftly in my bed,
my blood pounding in my head,
wondering why the dream won't leave my mind.
out of curiosity,
i rise from my bed to see
what lies inside the mirror and behind.
this time when I look at me,
i see not what I used to see,
the blackest, thickest fog inside my mind.
instead, this time what I see
feels somewhat like clarity,
something I've not known before this time.
i see myself as others do,
not what I'm accustomed to:
the flaws and imperfections that are mine.
right now in the looking glass,
i see beyond my darkest past;
into the future, hope forever shines.
i see the truth inside of me,
radiance and true beauty,
the kind that can be found only inside.
the lesson that I've learned from this:
the opinion that matters is
the mirror that lies deep inside the mind.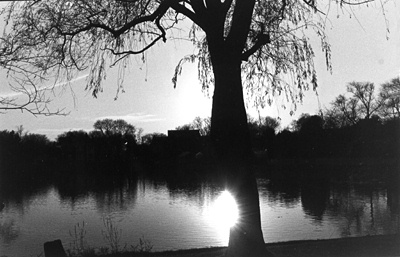 © Chuck K., Marblehead, MA