Caught in the Stairways
October 9, 2009
Caught in the stairways,
Of your many-level gaze.
Nowhere to go,
No one to know.
The world spinning under our feet,
Feeling, under my palm, your racing heartbeat.
This moment is a moment of surrender,
Relinquishing, abandoning, leaving behind everything together.
You and me…
Such beautiful words, so lovely.
We have nothing left to hide,
No, nothing to keep hidden, except the simple concept of you and I.
Holding in this clandestine,
Feeding this tangy crime.
Our lips crash,
Drums roll in our ears, bold and brash.
Mouths moving in sync,
Never having to think.
My home is in your arms,
Encircle me, keep from the cold, keep me from harm.
Make me have faith in you, make me believe,
That you'll never leave my side, no you'll never abandon me.
But we can't stay here, not in this place,
Not if we want them to kill our perfect fate.
Because we believe that we must be together,
Let's never surrender.
I look into your eyes, for just a tiny glimpse,
Before you pull me into bliss, another flawless kiss.
We are going into battle,
Leaving the fire burning in the mantle.
You hold my palm and heart in your hands,
Linking us together as we take our stand.
The sun is rising up into the sky,
And we hear that battle cry.
The metal-clothes warriors are here,
We show no fear.
They continue to speed toward us,
They reach between our linked fingers, throwing our bond to the dust.
We die with pride,
Looking at the other with love in our eyes.
We broke the law,
Our punishment death by the plummeting saw.
These old times where the aristocrats rule it all,
We were once in their rise, but now in our own fall.
Two lovers, we were, not knowing any better,
The king's beautiful wife, in an affair with a server.
The riches and rags didn't cross our minds,
We didn't care about what we left behind.
Now in the Renaissance of Europe, we face our demise,
No fear in our eyes.
I watched him go first,
His head dropping away from his body, enough blood to quench a leech's thirst.
I thought of the time we were caught kissing in the back stairways,
When I was caught in his gaze,
The gaze that pulled me in,
Seeming like a familiar place I knew I'd never been.
When we reach heaven, we will again embrace,
Reveling in each other's beautifully pale face.
But one thing at a time;
It's my turn to die.
When the blade came tumbling down,
Darkness immediately capturing me in a shroud.
My soul twists up to the stars,
And I know where you are.
You are at the gaits,
I am the one for whom you wait.
We bend in for that kiss,
Thinking, "Yes, losing everything is worth it for this."
My mind travels back down to earth as our lips move,
When we were caught kissing in the back stairways, our only light from the moon.
You smile at me, and I smile back, loving the love on your face.
And I am once more thankful for that moment, the moment when we were caught in the stairways,
The moment when we sealed our fate,
The only fate I would ever take.
You and I,
The thing we no longer need to hide.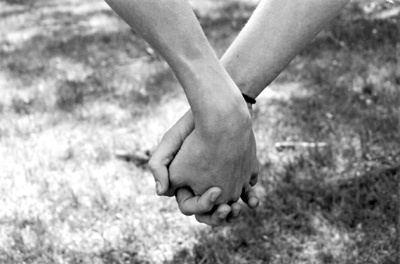 © Alexa T., Pompton Plains, NJ