Tattooed Skeletons
October 7, 2009
Untouched by this world,
But threatened by it still,
I struggle with myself to understand
The destiny I'm meant to fulfill.

So disoriented by the thoughts and actions of this realm,
I strive to break the pattern,
However, with my secrets, I'm overwhelmed.

Some days I wish you knew the skeletons I keep hidden
Like how I strive for indifference,
Or the fact that I'm enticed by the forbidden.

Everyday I venture to demonstrate the flawlessness and
Perfection of this world…
How can I hold it inside?
My edges are starting to unfurl.

My dreams aren't practical, but I'm not a pragmatic case,
The desires I yearn for cannot be erased.
Secluded by silence within my own reason,
I paint a world on a canvas of a more astonishing season.

I suppose that I'm fake, not in the expected way,
But that I put on a show for every face…everyday.
I'm not who I appear to be, my soul reaches unbelievably deeper.
There are only a few spirits that are my heart's keeper.

On the other side of my character, however,
I could be completely real.
Others just don't see eye to eye,
They'll never understand completely how I feel.

Who am I? Who the hell can I be?
Am I artificial or am I true?
Should I conform to the rest of the human race?
Demonstrate my secrets to everyone, as if a tattoo?

I am back to the plight, I so need to escape,
The excuses are replaying on my deceptive mix tape.
I am rubbing my skin raw; I need to break from my pose.
Under the makeup and ink- an abstract person exposed.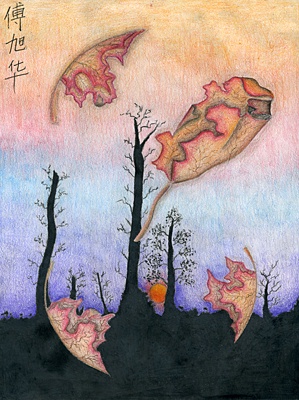 © Becky F., Sacramento, CA