Portrait of a Victim
September 12, 2009
See?

My moonlace sleeves used to
hug, pull in
china butterfly wings,
me and that new skin.

My claws didn't always fumble, drag, clasp
(I'm so sorry- look away- pretend there are butterflies)
Cheeks didn't kiss fences
... And claws were hands/ oars/ wings.

Claws are for digging into the earth and flesh and terror.

This was a hands paddling through air little girl,
laughter easing through
plumping lips.

No/
I did not always have to carve forests of twigs
into my body that leaks red lake sap.

See?

But when little girls are made to use their
big girl voices that
didn't never will work (no please don't god? Help.)
they metamorphose into cross sections with
flag labels (Tattered wings)
that can't be cleansed of the water/ mud/ blood
still burying their bodies.

See?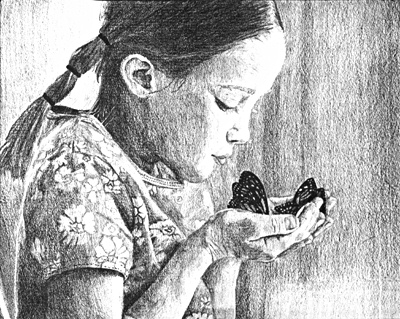 © Alina L., Holland Patent, NY