A Fishing Net
February 5, 2022
"Stop talking to me, you never understand me!"
"Today we will learn Euler's method…"
"Can you hand it to me before mid-night today?"
"My mom passed away last night from COVID."
"…"

It was a tube, a clogged tube.
Here, came the over-boiled soup,
With surrounding air fired.
Now, came a long shower,
Pitter-patter, pitter-patter.
Came the rice washing water,
In a bowl, being violently dumped.
Came some melted snow,
Preserved by a girl in her favorite glass bottle.

The tube was gradually full,
So full that it started leaking,
And I picked up my pen.

I weaved a fishing net,
From one string to many knots,
From one dimension to two.
I weaved a fishing net,
With some knots bigger and looser,
Some smaller and tighter.
I weaved a fishing net,
That was thrown into an unquiet ocean,
Capturing treasures hiding in the flow.

After long usage,
The bond between the strings grew loose.
I sat in the middle,
And started repairing.
I was like a prey in the net.

In the net,
Inspirations got trapped,
Feelings got trapped,
Joy escaped,
Willingness got stuck,
But passion never waned.

I stretched my arms to reach the farthest holes.
In a weird position,
I was wrapped all around by the net.
Under a weird costume,
I joined the last gap.

I threw the repaired net into the ocean.
I threw it carefully,
So carefully that the net wouldn't sink to the deepest of the ocean,
And waited.
After an arduous pull,
Harvest,
Bizarre harvest:
A fish with eyes on two body sides,
A turtle with its shell on the bottom,
An octagonfish with eight tentacles,
A purple crab with a triangular stomach,
Appears,
Along with a bizarre dream of mine.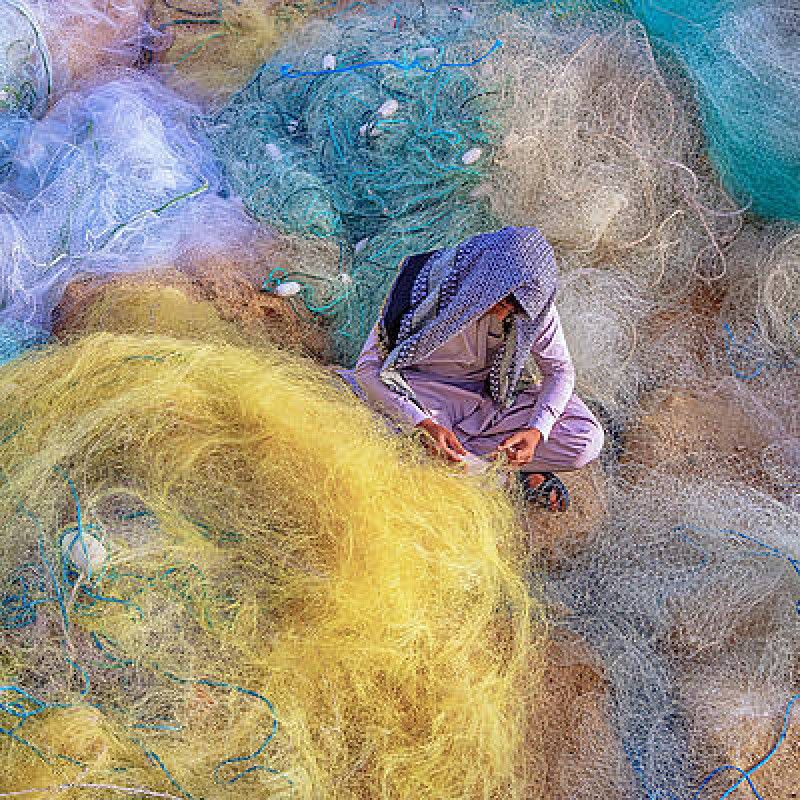 © Helen L., Lititz, Pennsylvania