La Marche Del Mundo
October 21, 2021
Clipping on the leash,
My golden orb covered in curls
Races for the door,
Arriving at the spot
To relieve in a hurry,

Just at the start of the walk. Turning
The corner, we see a cone.
Bright orange and gleaming in the morning sun.
Puzzled, Tucker sniffs and wonders. I know
The answer to his unasked question, but
Know he will never understand.

A leaf falls just in front,
Of the furry little thing who darts towards,
The fallen object and shows the world
His trophy.

Perking his head up and looking
To me for cognizance, we being the
Audience of the barking symphony. Dogs
From all around,
From the house up the hill to the one
Down there, creating
Music to all ears. Except,
The ones who are still asleep.

We reach the summit
Of our walk, the top
Of the hill, that we just ascended,
A bright yellow ball, pokes up,
Striving to be seen
Above the hint of a mountain top.

Turning around, I toss
A puppy's favorite dessert to my own.
And start the trek back home, Tucker
In the lead snapping his jaws
At the mysteries of the morning walk -
A flood of blue replacing the once pinkish,
Orange dome.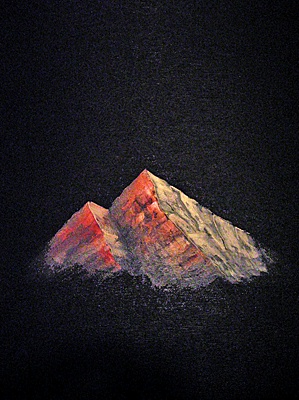 © Neven U., Zminj, Croatia