Ovation for Planet Earth
May 5, 2021
They told me in school that Earth is a good boy and stays in orbit,
but now the earth is playing with danger and is flinging off
its shackles of JohnJohnJohnJamesBob. The earth's name is Wilfred. It wants its birth certificate changed.
The earth is too big for falsettos and broken dreams and Buicks.
The earth is a roadie and Jupiter has a rock band. Oh! I am going to space! I got a ticket and no oxygen. Sure! See if I can't go weightless!
Oh, the earth is a fishy mess of joy and is quarreling with the moon. The earth is a diamond. The earth is waving with trees.
For the benefit of Mr. Earth, we stand on the moon and give it a standing ovation while it revvs up its blue skies and says thank you.
The earth is a punk. The earth is jazz. The earth is barreling like a rap song. The earth is full of
wonderful birds and bedtimes stories. Oh, bicycles and motorcycles! The earth is whipping around and flirting and putting gold nose ring on and is just a bottle topper on the wine of the universe we get to pass around.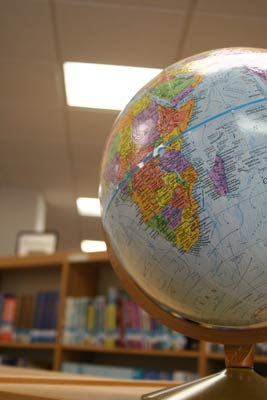 © Jessica G., Omro,WI