Listen
November 4, 2020
I hear the silence
Of lying awake at night
unable to sleep with life
turned upside down
When will things ever be the same?

But listen
As we fall silent
we can hear the heartbeat of the Earth,
like a lullaby
saying that we are still here

I hear you crying
for everyone you love
too far away
If they are sick, if they die,
will you know?

But listen
People are singing
together from balconies
After all, what do time and space matter
when hearts reach out together?

I hear the people
Fighting for air
as the lungs of the world
are consumed by fire
How long can we stay seperate?

But listen
Out our windows,
the birds are singing
Andra tutto bene
Everything will be alright

Listen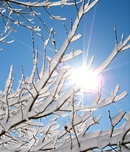 © Barbara S., Hoffman Estates, IL