Twilight Mangoes
May 31, 2019

At dusk, when scarlet blood drips onto the canvas of the sky,
I sit in Grandpa's old rocking chair with a mango in hand,
watching from the front porch as the world descends into darkness.
The chair had lasted longer than Grandpa,
its faded blue seats and rusted iron legs
resembling the hollow body of a skeleton.

Grandpa would spend entire days in his chair,
reading the newspaper or witnessing the songbirds make a home
out of the lone sycamore tree in our front yard.
The tropical perfume of sunset-orange mangoes
would float outwards from the kitchen, where Grandma
stood preparing her husband's favorite snack.
Grandpa and I spent sticky summer afternoons with our teeth sunken
into the mangoes' fire-dragon flesh, the collision of sugar against tongue
making our lips curl into fuschia-stained smiles.
Twilight's shadows danced across our skin like miniature suns,
and the confluence of our laughter felt almost like birdsong.

Now, with Grandpa buried beneath the dirt like the roots of the sycamore,
silence creeps into the spaces where his laughter once filled the air.
I bring my fingers over the worn cushions of his chair,
its linen threads fading like my memory of Grandpa's smile.
A cool breeze blows as I take a mango from my lap,
bring it to my teeth, and let its juice drip down my chin.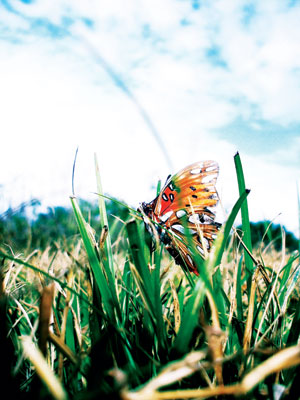 © Ashley B., North Port, FL