Ars Poetica in Blue
May 23, 2019
Here is a true story:

My mother gave birth to an ocean instead of a boy.
Blue-faced and breathless, two months early, I was a baby still born,
practically stillborn. Hospitalized for a month before landing into
the shore of her arms, I cried endlessly,
saltwater screams wrenched from my brackish mouth
until my tongue was a dried-out river,
unable to form words until age three--
and even then, not in the language she had hoped for.
Yet every evening, when moonlight swam through the open window,
tinfoiling our silhouettes into beautifully cool ghosts,
my mother sang to me in a language brimming with delicate curves,
a kind of music that sounded off-key to my American ears.
This story happened, but I can't remember how,
can't recall the way she saw herself reflected in the fold of my eye,
knowing that this kind of leaving is hereditary--
the way I cut off my native tongue to bleed only red, white, and blue,
the way my mother abandoned her own homeland,
wondering if she, like any flowered girl, could take root in foreign soil.
And what could be sadder than a mother who cannot speak to her own child?
The same mother who left her own?
The mother hovering over her son's crib, singing softly in faded blue moonlight?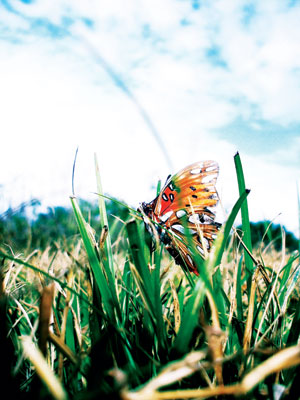 © Ashley B., North Port, FL