friends forever
August 2, 2018
I can't believe I carried a diamond in my pocket
Ever since I was ten.
What else do you call?
A friend who made it up for all.
A big sissy she was
Though I towered her (almost).
Always an adviser on duty
No kidding, cause she was a serious one.
My dramas never bored her.
My grammar never bothered her.
Thank God she kept up with them
What else would have I done?
I could live a day without brushing my teeth
But not without eating her ears off.
Oh! We were silly 'little women'
Simply born to different women.
We will remain friends forever
Wrecking the earth together
To do the same in heaven (if we make it till there)
Is the purpose by which we are driven.
My craziness suited her well
And our sanity was almost parallel
And I'm proud we were equals
In everything except
My height and her sarcasm.
But then I wonder if we were same at all
No, we weren't, I must tell
We had a world of difference
And so from experience
We created another world
To deal with all of them
Bread and butter, people called us
Chalk and cheese, we used to fuss.
Aaah...We must part ways soon anyway
Cause we are heading to college on another day
Nevertheless my wish- list reads
No.1: remain her friend forever.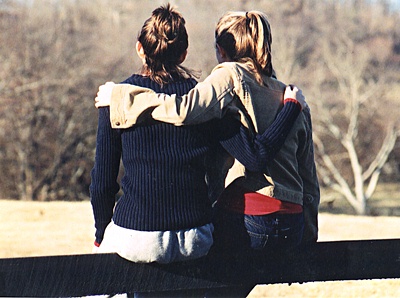 © Jaime M., Wichita Falls, TX