ballad of him, addressed to her
October 25, 2016
My heart had never felt such pain, and I hope it never will again,
Oh! The agony of rejection, how there was a quite big section

Of my heart devout to him, my loving always filled to the brim,
What I would do to receive some back, but, instead, he pierced me like a tack

And turned my swollen heart away, just the thought would ruin my day
Of how he would never accept my love. How I wished to be set free like a dove

Instead of bound here by these chains, (the realization of not loving again)
Because my eyes were only on him, my happiness became dimmer than dim

And I began to fade away, a little more each and every day,
Until I was no longer there, not even the cloudiness of breathed out air

Because the whole of me was robbed by him, sought by the pain of rejection.
I've tried so hard to heal my heart, but he'd torn away such a big part.

I don't know why I'm still in love, after all the pain that he has caused,
I don't think he even knew, as his eyes were only transfixed on you

And so I ask, do treat him well, and I predict your love will swell
But there will be a time when he runs away (yes, he will, I have known the day)

It will seem like you were meant to be. At least, that's how it felt to me.
But suddenly, it will fall apart, And he will run away with a piece of your heart.

But for now, you're the only thing on his mind. I guess that I just wasn't his kind.
I'll have to try and accept that someday, but until then I'll just fade away.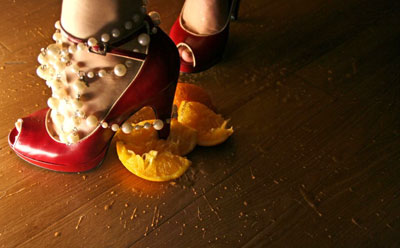 © Amber L., Carpinteria, CA