My Suicide Note
March 15, 2015
Silence sprawled all over,people's eyes scanning me.
Finding quiver in voice, beholding shuddering, trembling me
I stood in screaming silence, pressing lips banning its twitch
Gulping tangled burden as salty water raced down my cheeks.
Eyes shut forcibly, lashes feeling the wet of hot tears.
Darkness draped around my life with haunting fears.
Heart pitying this soul, piercing grief so filled to brim.
Groaning with lost voices, always expecting to see 'him'.
As the moon celebrated solitude dancing in the dark,
The pain drilled into my bones, fierce than a shark.
I hid my face hugging knees on the teary floor
Before the silence broke with the room's creaking door.
It was 'him' at my door, never asking for permission
Being the only one beside in my melancholy condition.
Unwillingly ,he'd put me in trance with his allure.
Making me being lost in him, trying to obscure.

Just now I'm hunting trauma ringing in my memory.
I only find 'him' there, laughing, crying with me.
But I kept losing him whenever came out of misery
Though his sincerity compelled him to stick with me.
I endured it till the end but now I'm really sorry.
The current trauma is ripping every part of me.
Like a giant wolf sitting on throne howling at its prey,
Blood streaming down its teeth while tearing flesh on lucky day.

I tried gaining balance , stretching hands in slow motion.
But then the hasty crowd shoved me blurring my vision.
Crashing on the ground, I whispered my final goodbye.
Then 'he' approached me with a smile saying "Hi".

'He' took the bruised me far away from the world
To the dark calm place, without uttering a word.
Having his hands in mine in that bitter-sweet night.
He pointed at something glimpsing in moonlight.

I stood before deep soothing river, tranquil as grave.
'He' gave me final signals for what he really crave.
Blinking away my last tear, Looking back for a spark
I found nothing but the canvas so very dark.
Taking deep sigh, I clenched sweaty fits, looking into river.
Finally threw myself into it, getting closer to my reflection.
But before dying, he tenderly whispered "You were mine forever"
Indeed 'He' was right ...'My Never-Ending depression'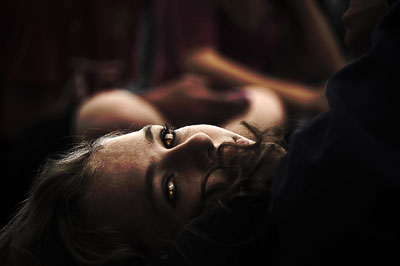 © Calvin C., Salt Lake City, UT