Crystal Blues
May 19, 2014
You remind of early mornings,
And fresh coffee in the pot,
That first sweet gust of air,
That ties my hair up in a knot.

You remind me of colors,
Different shades and different hues,
Your eyes remind me of oceans,
Different depths and crystal blues.

I think your body's like a sculpture,
I know I'm not allowed to touch,
Driving home from work thinking,
"Why do I admire you so much?"

You're a twist inside a curve,
Of a line without a start,
Abstract and dynamic,
You're a walking piece of art.

Maybe beauty is perception,
I can't imagine that it's true,
How could there be a person,
Who can't see you the way I do?

I see you folded into pages,
Of poetry and books,
And when I read its wonders,
You were every breath I took.

You said that beauty was just symmetry,
And that you didn't make the cut,
You'd like to change some things about you,
But I can't imagine what.

How can you think that to be true?
When I've found beauty in your eyes,
And there is nothing symmetrical,
About rainbow sunset skies.

How could there not be beauty?
In such a thing as you,
When all you're made of is sunsets,
Abstract lines and crystal blues.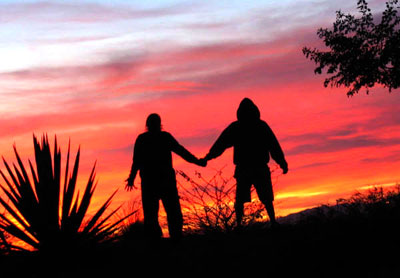 © Rosanna S., Phoenix, AZ