Screaming, Hitting, Moving On
February 4, 2013
There's something about the power
that always keeps you wanting more.
So what if the tears flow down her face?
To you, she's just another w****.

Yelling at her is never enough,
She never seems to understand.
No matter how many times you might scream,
She'll always try to grab your hand.

She'll always try to kiss your cheek,
No matter how many times you push her away.
She'll do the homework that you never did,
And you'll ignore her day after day.

You'll always have a good morning text;
When you say you hate it, she'll do it more.
She'll listen to you swear and cuss her out;
It's no big deal; she's heard it before.

The first time that you raise your hand,
You'll shatter every piece of your "baby".
And when you apologize and rub it better,
She'll always think "This time, maybe."

But the anger inside you will always rise,
And the girl who loves you will take the pain.
The screaming, the hitting, the broken words,
She will never be the same.

But one day "your girl" will figure out her worth,
And she'll realize how strong she is.
She'll let go of you, and find what she deserves,
You'll lose her; and she'll be his.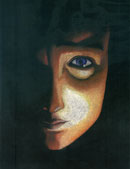 © Erin M., Jamaica, NY