Queen Anne's True Lace
February 29, 2012
Make me the most exquisite lace.
There is no rush Anne, no race.
Anne spent dawn to dusk,
preparing it and fining it,
still not enough.
More beautiful than a rose,
more gentleness than a blossom.
Anne grew weary of this lace,
and disposed of it.
Beneath the daring grounds,
of Hades.
She lolled through a meadow,
her heart was sound and settle.
Tossing and turning,
with the passion of the petals.
Prince James spied on Anne,
he felt his attraction.
James was in his youth,
surely infatuation.
He saw her as a lass,
she'd walk with that flower.
But it surprised James,
this looks but of a weed.
Anne feeling refreshed,
dug up the lace.
She was almost finished,
she knew the prince would be delighted.
But unwillingly Anne pricked her finger.
Tears ran down her eyelids,
feeling sorrow and remorse.
The prince fervently hushed her,
and carried her to the meadow.
"It looks darling!"
spoke the prince.
Anne looked up,
and said.
"This flower shall be called,
Queen Anne's Lace!"
They both smiled and went,
back to the castle.
But that drop of blood,
on the lace wasn't a mistake.
It was the love we feel,
nothing or anyone is perfect.
So kiss the rose goodbye.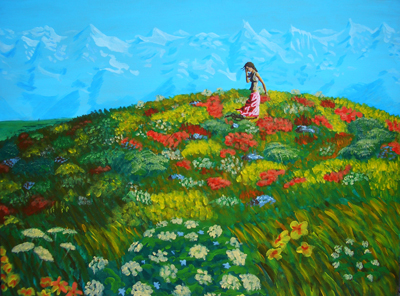 © Allison F., Langhorne, PA