Nostalgia
September 13, 2011
It feels like yesterday that we first met
Like our story started a moment ago
So how can it be that we've grown so old?
Where did all our precious time go?

They say it was years but I say only seconds
ago that I hoped to one day call you "friend"
But it seems the seconds are years that go by so fast
and time won't hold still in the end

But why so soon? I don't understand
how this world is spinning fast.
Can't we stop for a moment? Just for a moment
can't we somehow make our time last?

Bethany's getting married? I'm happy for her
but so soon? I can hardly believe.
Who's next? Since when? Is it all true?
It's all more than I could ever conceive.

Christa's thirteen? When did she grow up?
I remember when she couldn't even walk
And now she's stepping up to where we once stood
and like us she's now learning to talk

Someone pause the world, make the seasons halt.
For a minute, just give me more time.
I'd take this moment and I'd lock it in my heart
along with our tears and unsung rhymes.

What wouldn't I give to have you again?
To have you has we were before.
But with all I have, it's still not enough
to have what's behind that closed door

But because it's over and there's no going back
Doesn't mean that I can't try.
Still goodbye it must be. With all of my love
I bid you farewell and goodbye.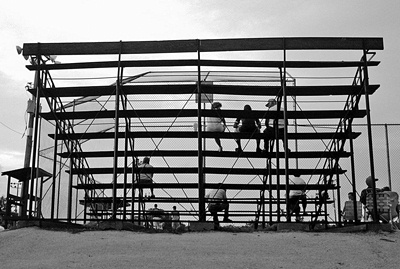 © Katie C., El Dorado Springs, MO