Night
March 24, 2009
The night is mysterious,
For it hides many things,
Things cruel and old,
Others somber and sweet.

Many ideas and concepts,
Legends, and superstitions,
All are said to live and thrive,
Behind this unknown time.

Crazy and misunderstood,
Fighting to stay alive,
Fighting against the power,
Of the Sun and its shine.

Night stays a mystery,
While telling all to the world,
Only some understand,
The ancient rhyme of night.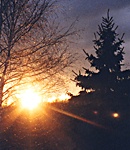 © Christy S., Germantown, NY