Asking her to prom
April 21, 2016
What do I say?
I see her, She stands but only a few feet away from me yet I'm frozen in place.
I see her, Oh the beauty, such well defined features for an angel…
I see her, My tongue swells within my mouth as I gaze at that perfect face.
What do I say?
"Hi" That's how everyone says love starts yet here I am in love without saying one syllable.
I see her, She's so close yet so far away…
I see her, She smiles pleasantly at me in class yet I can't even return that small friendly gesture.
I see her but she never truly sees me.
Me and her, We're from two completely different worlds.
What do I do?
Two more days, Forty-eight hours….
Just a little courage is all that it will take,
Should I reveal my love through sealed parchment or shall it be in words that drip from my lips?
One breath or two breaths then I set off,
Kneeling before her with outstretched arms I ask her to give me one dance,
Her cheeks grow red as the roses petals and she laughs with a sound like honey,
Yet though these signs seem promising her answer was still no….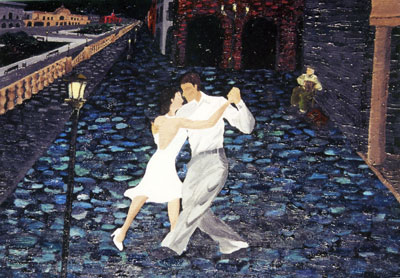 © Elizabeth M., Kannapolis, NC