My Penguin (they mate for life)
December 1, 2008
You were summer, and laughter,
and an old sweatshirt that I didn't want to wash.

You were a disposable camera at homecoming, and batman dogtags that they gave you (before they hated you).

You were soy chai's, and the winner of every race to pull out our wallets.
A hand in my back pocket, and a breath on my neck.

You were a park bench in the sun and a grin after an unexpected phone call.
You were a small cup of chocolate ice cream the night I realized I'd fallen in love with you
(and you sat a seat away).

You were a song requested in a courtyard, and the secrat I couldn't keep.

You were the taste of caramel apples and gummy bears (in too short a kiss, too long between goodbyes).

You were a shudder down my spine and a box of plum jelly beans.

You were a bag left in a cupboard and no real goodbye.

You were three nights of a salty sea that my eyes set free, and restlessness that killed every chance of sleep.

What you never have been, and never will be:
Is goodbye.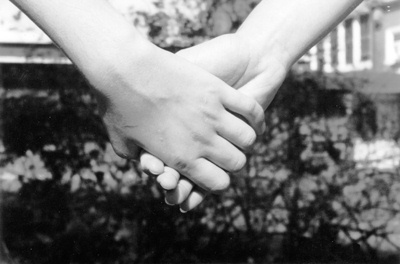 © Lauren G., Pompton Plains, NJ