23
November 23, 2008
Bras, skimpy underwear, and lingerie are tossed out of the dressing room,
scraps of her rejection.
High pitched giggles and Oooo!'s filter down the hall to where I slouch in an armchair,
cheeks as red as the maraschino cherry lipstick she's wearing.
The sales woman glances at me.
I look above her head at the big letters on the wall,
rolling my eyes up to keep the tears from sliding out.
"Oh! Come look at this one!" she shrieks,
I hear the patter-thump of Friend's heels on the carpet
going to examine the fine specimen.
The sales woman hesitantly approaches.
"Can I help you with anything" she asks in a soft and silky voice-
she matches the light blue satin nighty hanging on the rack behind her.
Yes, could you please look in the stockroom and see if there are any size right moms? Maybe one with blond hair and blue eyes, and a purple sweater? Price isn't an issue.
"No, I'm just waiting for my…. uh, someone."
I force a smile that's as stiff as a mannequin's hair.
"Sweetie, come help me get this laced up!"
I pretend not to hear.
Watching the hand on my little pink watch, slowly ticking away,
my typical Saturday afternoon, shopping with my mother.
More like my mother shopping, and me waiting.
Always waiting.
Finally she and Friend emerge,
tittering and carrying a wealth of hangers adorned with lace, satin, silk, chiffon, taffeta and mesh.
They flounce up to the counter, pull out the shiny plastic, and swipe away my college fund.
"Get up, we're ready to go" she snaps at me without so much as a glance,
she's already half way to the escalator.
She descends, swaggering all the way.
I can see the thong straps over her jeans' waist-band,
and a pair of black straps through the sheer white shirt.
I trail after her, with a wistful glance at the other gray-haired women in the coat shop,
the formal wear section, among the modest sweaters, jackets, dress-pants, and knee-length skirts.
My mother looks like every other 50 year old woman here, I wish she would dress like it.
But my mother thinks
she's 23.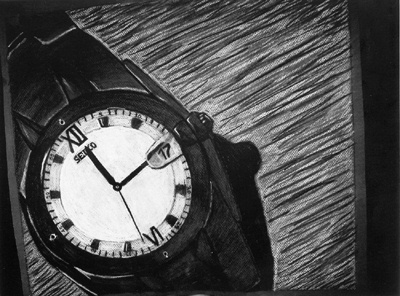 © Rachel U., Danbury, CT