I....am....live....see...will...can...must not...hate...love...
November 16, 2008
I am human.
I am female.
I am a teenager.
I am strong.
I am a dreamer.

I live to move forward.
I live to be a shoulder to cry on.
I live so my friends will not be angry with me.
I live to show my family what I have become.
I live to show the world what I see,
through my eyes.

I see the world.
I see the magnificent colors.
I see people who I love.
I see my life passing by.
I see my world falling apart.

I will always smile.
I will do what I can.
I will not shred my flesh.
I will put on a mask.
I will not...cry.

I can do anything.
I can show the world what they are missing.
I can love someone dearly.
I can hate someone entirely.
I can be a sinner.

I must not be afraid.
I must not look around.
I must not look weak.
I must not stay still.
I must not be a burden.

I hate my tears.
I hate my choices.
I hate my head.
I hate not thinking before speaking.
I hate anyone who hurts my loved ones.

I love my friends.
I love my family.
I love my world.
I love my soul.
I love everything, except me.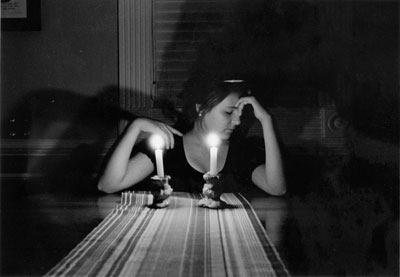 © Eleanor K., Bethesda, MD