Essence of Poetry
September 26, 2008
he darkness was evident

Yet I was still writing

The moon, a perfect crescent,

Abetted in alighting.



My pen scratched upon

The creased paper

The lexis it dons,

Made me stop to ponder.



I hesitated,

And looked down,

My mind whirling.

The light itself was a dark gown,

The wind was eerily swirling.



I dipped my pen

Into the ink

Counted to ten

Till it filled to the brink



I lowered my eyes

Touched the smooth paper

Words delivered devoid of lies

Yet filled with so much stir



I knew what I wrote

Was poetry yet

The vitality did not float

There; that's not where it whet



It was the paper itself

Made of cheap wood

Work of an elf

Did wonders with the lead.



The pen so sharp,

So steep at the end

Which never did warp

As many long, endless

Messages it doth send.



The light, at last,

That shines on what I engrave,

Encouraged the pen & enthused it fast

Will yet but follow me to my grave



I stare upon my poetry

The words a vague blur

I struggle to read vainly

More wrinkles catch my paper

'Cause reading between the lines,

Though they be my own,

The meaning aligns

I write not alone.



The essence of my poetry

Is not my words

Not my language

Not my handwriting,

And not my knowledge.

It's my pen,

My paper,

My light,

Those that always do prove be

My faithful guide.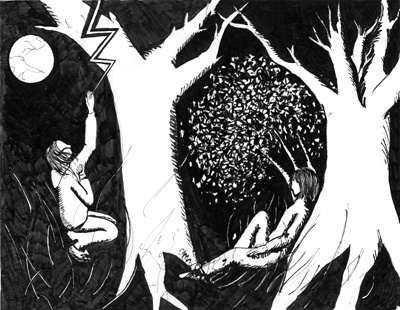 © Blair B., Davis, CA