Destruction
September 20, 2008
Every other day,
Every other night,
My eyes fail me,
As I try to make sense of the fight.
Every time a new day dawns
Every time the clouds veil the moon
Every other minute and second
From every reflection of the spoon
The up side and the below
I see the world
Struggling to bend
Its ways and its meaning
To change the destruction
To remove it from the surface
To eliminate the devastation.
It's taking over
Spoiling the beauty of Earth
Ridding it of joys
Filling it instead with birth
Of more pains and loss
The echoed cries
Ring in my ears
The shrill screams
Confirm my fears.
I feel a sudden hatred,
A surge of rage,
A temple of ire,
As I explore the stage
On which I see
The world tearing up
A world where every person will be
In grave danger,
Every moment of their lives
But is it a play,
Is it really all fake?
With nothing at the burning stake?
Just a mere source of entertainment?
Do my eyes play tricks on me,
Or is the truth what I really see?
The shattered world,
And the shattered people
Crying in anguish.
I close my eyes
Already blinded by the pain
To see so much loss
So much stain
'Cause every night I see
The torn apart humanity
The curse of terrorism
The loss of human lives
The sharpening of slick knives.
I do not want to believe it
But it's real,
And the wish remains deep, hidden
That it is all part of a fantasy.
I witness the deaths,
The roars of bombs and blasts.
For peace my eyes seek
But it goes on, it lasts.
And I am forced to look
As everything around me
Falls to pieces
Destructible and vulnerable
Open to attack
Of the merciless terrorists
I feel a surge of hatred,
A spasm of pain,
As I look around me,
To the broken remains of
What I was once able to call
My beloved world.
And with one last look,
My fingers cover my eyes
Leaving no gap
Knowing that when again I would rise
I would yet again fall into a trap
Trying to believe
That I am still in the place
Which, devoid of grief,
I can still call home.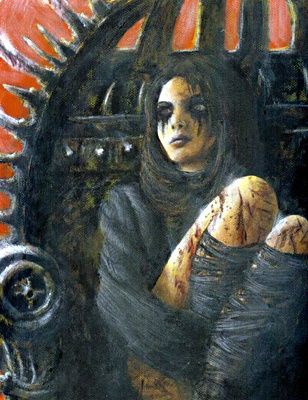 © Veronica N., Kenora, ON, Canada