What Do You See?
August 7, 2012
Look at me; what do you see?
A girl who's tall and shy?
But what's underneath the surface.
Is my appearance just a disguise?

Am I really who I say I am,
A girl who loves the Lord?
Who seeks to praise him every day
Attached by love's strong chord?

I look at me, who do I see?
A girl who's insecure
Who is a sinner saved by grace
And her savior she adores

But what if there was something
You couldn't see with just your eyes
What I'm like within my heart
Do I speak truth or just tell lies?

God looks at me, what does he see?
A lost sheep who has come home.
But now and again she runs away,
And through dangerous territory roams

A girl who wants to trust her God
But sometimes loses faith.
She really tries to please the Lord
But back to her old ways she strays

The wolf he stalks her all day long
And waits with greedy eyes.
He wears sheep's clothing and in her ears
He always whispers lies.

Sometimes she sees him for who he is
And quickly runs away,
But other times she is deceived
And he tricks her all the day

If only she the helpless sheep
Had stayed beside her Lord,
And let him lead where it was best
And reap the great rewards.

Instead she chose to trust herself
And from the flock she strayed,
Thinking she knew what was best
Choosing her own way.

Now helpless, trapped within the wolf's jaws
Silently, she prays
Her Lord comes now to rescue her,
Even though she had not obeyed.

Kneeling humbly she apologized,
And asked him to forgive
Her foolishness and haughtiness
And for all the evil she did.

The Lord he took her in his arms,
And she knew there was naught to fear.
But it broke her heart
To see roll down his face a stream of tears.

For it was she who caused them,
When His love for her she'd mocked,
She had given Him nothing but sorrow
When she'd gone and left the flock.

Now look at me, what do you see?
Still a girl who's tall and shy?
Or do you see me now for who I am,
Tell me, what do you see, and why?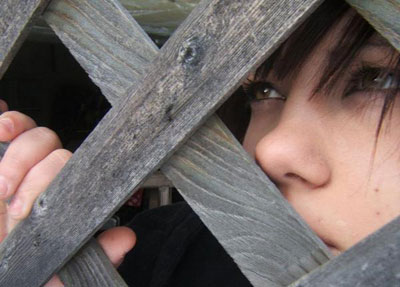 © Krystal B., Bloomingdale , IL