Tree Girl
April 10, 2012
Every night, I close my eyes,
I try to sleep through my sister's cries.
I remember the terror, the constant fear.
I remember the sea of pain that has brought me here.

Walking home one day from town
I heard the shrieks that made me frown
I ran as fast as I could run
Knowing deep inside my heart, the horrors that had been done.
Dead neighbors and friends were scattered everywhere
My entire family was also there.
Laying cold and bloodied on the ground
Their faces forever contorted in pain without sound.

None but three survived that day
My siblings Alicia and Antonio had run away.
Sadly, my brother died a day that did follow
It was hard for us both to swallow.
Always silent my sister stayed
No matter how many attempts I made
To Mexico was our path,
No longer would we endure Guatemala's wrath.

Along the way, a dying woman gave to me her newborn
With her baby girl in my arms, "Run away" to us, she did warn.
I hid my girls inside a shrub
To search a nearby town for grub.
Food is something we would need
To unsure in our journey that we would succeed

Then, walking in were big strong men
Without a doubt I knew what they did intend
I ran and climbed up in a tree
Oh, the horrors I did see.
Death walked in with guns and torture,
They destroyed my culture's future.
What once gave me peace, a tree, a friend,
The relationship did quickly end.
Never would I climb a Manichichi.
Cowardly guilt was too great a fee.

I should have died with everyone that night
Going on with my own life, I have no right.
My body should be next to my family
Not stuck here, far from being free,
Barely with enough food to eat.
Surviving though, has been no easy feat.

Alone, I thought my girls were gone,
So I left the town and continued on.
I felt so lost so desperately confused
My whole world had been wrongfully abused.
Near-dead skeletons walked around so scared
Begging in whispers if they dared
Helpless hunger and searching was all we knew
Those that survived were often quite few.

Hunger gnawed at my very core
Desperate for what there was before
Every child I saw, I looked for only my little girls:
My darling Alicia with dark knotted curls
Holding an unnamed child whose mother was lost in birth
Finding them was my only worth.

I did reach Mexico though it took a while
I survived each and every mile
I walked for days and weeks but I finally made it
I had wanted to die, more times than I will admit.

The refugee camp where I stayed
Was filled with so many people and every day we prayed.
For freedom, for love, for families, for peace
For all the fighting back home to cease.
Two months after I had arrived
I discovered my girls had really survived
Alicia and the baby, Milagro, were here
I felt so free to have them near.

I have taught my sister to climb a tree,
Even thought it terrified me.
She asked to go higher up in the Machichi,
She wanted to share this moment with me, of being free.
I am once again Laj Ali Re Jayub, Tree Girl,
A name I now share with my little pearl.
Into the future we must go
To a new home where we, the Mayans, will grow.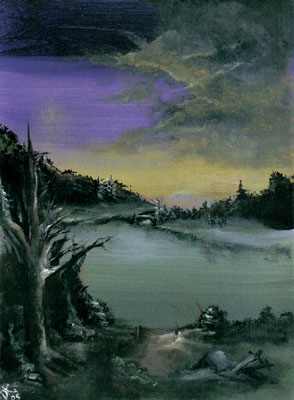 © David K., Birkenhead, UK