Wall of Salty Tears
April 6, 2012
My sage green eyes wrapped
By a yellow snake
Shimmer behind a wall of
Salty tears you make.
The wall forbids to fall,
It's reinforced by heart,
The one that I gave you
That you ripped apart.
I guess you didn't mean to.
All your lies were said with truth.
My mind is swimming in the wall,
My trust is begging for the proof.
Show me that you're honest,
That you really do care.
Prove to me this means something,
By simply being there.
Don't you understand that
Every word that you speak
Gets to me in someway
And makes my heart grow weak?
Fight as I do,
And try as I must
To get away from your lies
And the crave of your lust.





I can't
I'm sitting on the wall,
Not the fence or the edge,
The wall that can fall
With an honest pledge.
There must be something there,
I've seen a time or two
On the other side of that wall
Is the man I love in you.
This man I love will break this wall,
Because it was built to be broken,
And every truth and lie and ramble
Said, will with love be spoken.
The wall that was around my eyes
Will crumble down my pink face,
The cuts will become white lines,
A simple memory to trace.
You won't be able to see these scars
on the pale flesh of my skin,
They're carved into my spirit,
And my heart and mind within.
Never could I sum up,
All the words I have to say,
But I wish to be able to speak them
Slowly throughout each day.
Only time can mend this wall,
And built it with mortar and stone.
But until you speak the honest truth
The salty wall will stand alone
Threatening its ocean wave
To crash against the floor
Breaking everything it touches:
My spirit, my center, my core.
They all belong to you,
And it's my choice that I give,
Just remember, I need that heart
Beat in order to live.
Gentle with it when you have it,
But if you don't want it tell me now,
Yes it will break me,
But I will make it...some how.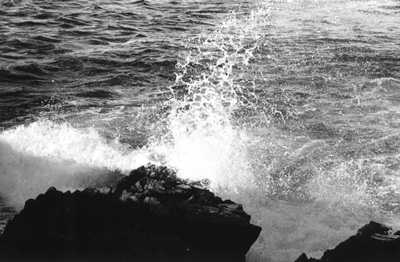 © Shira B., Marblehead, MA