Daddy's Little Girl
May 21, 2011
Eliza sits in the back of the class,
Tear stained eyes,
And hand prints on her throat.
She is covering her bruises with bruises,
Doesn't even know why she's the ridicule of abuse,
Doesn't know her skin color, because it was lost in black and blue,
From her father, But I guess since her father is always drunk,
And her mother's too high in the kitchen, to ever come down, and talk to her, that she becomes her father's punching bag.
And she just wishes it would stop, and she could go back to holding his hand, because she desperately misses being
Daddy's little girl.
But the abuse just comes and comes,
And she can't make it stop because he is a grown man and she's still his little girl
But she is growing into a woman, and he knows this,
And he won't allow her because she will tower,
And he won't have control over that girl he once called his princess,
Who he promised jewels and a throne, he never said those jewels would be black eyes and the throne was her bed which he laid with her at night, while her mother was dealing dope, In the kitchen, thinking it was nothing wrong as she ignored her daughter scream out at his command, I am
Daddy's little girl
He felt her, touched her, he molested his own daughter and listened to her screams echo off the walls and enter his ears and give him a turn on, and times like this when she had enough and brain possibly can't function with what happened, she thinks back to when she ran to her father and not away, when she was
Daddy's little girl
Today Eliza sits in the back of the class,
Hood over head, red eyes, bruises no longer bruises but scars.
She was called names, by that of her father, she couldn't control, and never tried to bother. She took the names and the hate with it too, all out of love of being,
Daddy's little girl.
She told me, how she was full of rage, the home was not a place, and it always seemed dazed...she said to me that death was near, she didn't say for who, but you could tell by the tears.
Eliza died bringing life into the world.
The father picked up his child and granddaughter, and said to her,
You know what?
You're Daddy's little girl.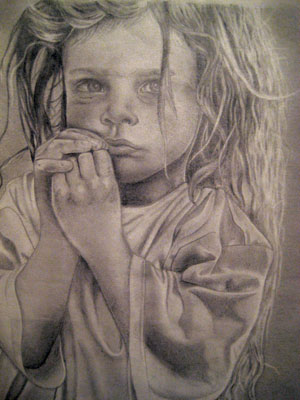 © Katie S., Pearland, TX