Night
August 10, 2010
I'm holding destiny in my hands-
Joy or sorrow? I've got power
When rapture calls my soul to dance
To weather lifetimes in an hour.
In my arms I cradle a universe
Of sweetest passion spun at midnight-
Deep as the sky, yet shallow as a star,
It dissipates at dawning sunlight.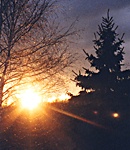 © Christy S., Germantown, NY