My First Kiss
April 30, 2010
Always, hoping to be romantic,

At times like these.
While he's begging please.
Thinking things through,

As I wait by the truck.
How much do I owe you?

Just ten bucks.
Sitting next to him,

Getting clammy hands.
Listening to all of his creepy,

Tragic bands.
What shall I initially do next?
Grab my phone and text?
He leans in to kiss me,

On my cheek.
Wondering if he just wants

A peek.
Nervousness eludes me,

Heart thumping.
Watching all the leg bumping.
Hand holding,

Grasping tight.
Should I put up a

Fight?
Initiating a kiss, I stretch

Up my neck.
To receive a small

Peck.
I take a step back

For awhile.
We both look at one
another and smile.
He gently puts his arm around me

And pulls me tight.
Feeling a small spark

Of light in the starry night.
As, I begin to relax I

Realize it's my first kiss.
I didn't have too spend

A single dime.
My stomach feels tingly as,

Though I were standing beneath a waterfall.
Trying to hard to stall.
My head feels quite airy,

I wonder if he's the one I will marry?
How could this night ever end?
It's such a perfect sight,

That need not bend!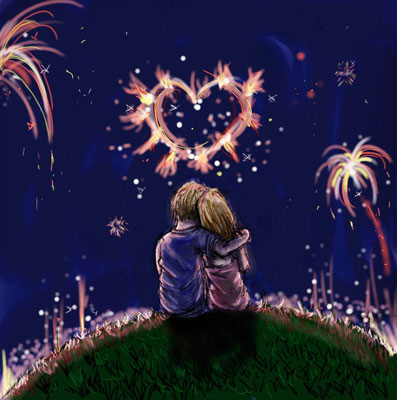 © Carissa G., Aberdeen, WA