Reflection
August 27, 2009
I sit here wondering who I am,
Wondering who I'm going to be,
Dreaming of who I want to be,
I stare out the window,
As I watch the cars go by,
I happen across a reflection,
I see a shape so familiar,
It bores me,
It's me,
I turn,
As I do she comes on the radio singing her new single,
I see her face in my head,
The reflection I want to see in the window,
She's got it all,
Everything I could ever dream of,
I try my very hardest not to envy her,
So I sit here and dream on,
My mind wanders,
I think,
Who am I,
Who exactly do I want be,
And how do I get there,
What's first,
Why does she have it?
What do I have to do?
Why is it so hard?
So hard just for a chance,
One chance to prove to those people who didn't think I could get to this point,
I want to prove I can get so much farther,
I want to show people what I have to show,
Its going to happen,
Why, when, where, how,
I need answers,
But I have none,
Not one,
But I have to keep believing,
I have to have faith,
Without faith I have nothing,
So I hold on,
I'm not letting go,
It's going to happen,
My time will come,

I will get my new reflection.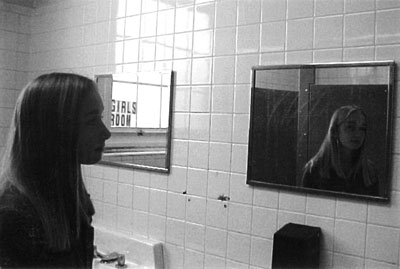 © Jill H., Pompton Plains, NJ